*Golden Bridge Choir*  *Together In Song*  *Vocal Workshops* 
 Come sing with us !!
**Golden Bridge Choir  Full Session  FEB 20th - April 24th**
** LAST Together In Song Sunday, MAY 1st**
PLEASE SCROLL DOWN TO REGISTER FOR
*TOGETHER IN SONG*  &
*In Person GBC Community Spring SING! * 
******  
TOGETHER IN SONG
 SUNDAY, MAY 1st
SCROLL DOWN to REGISTER & to read about our wonderful guests!!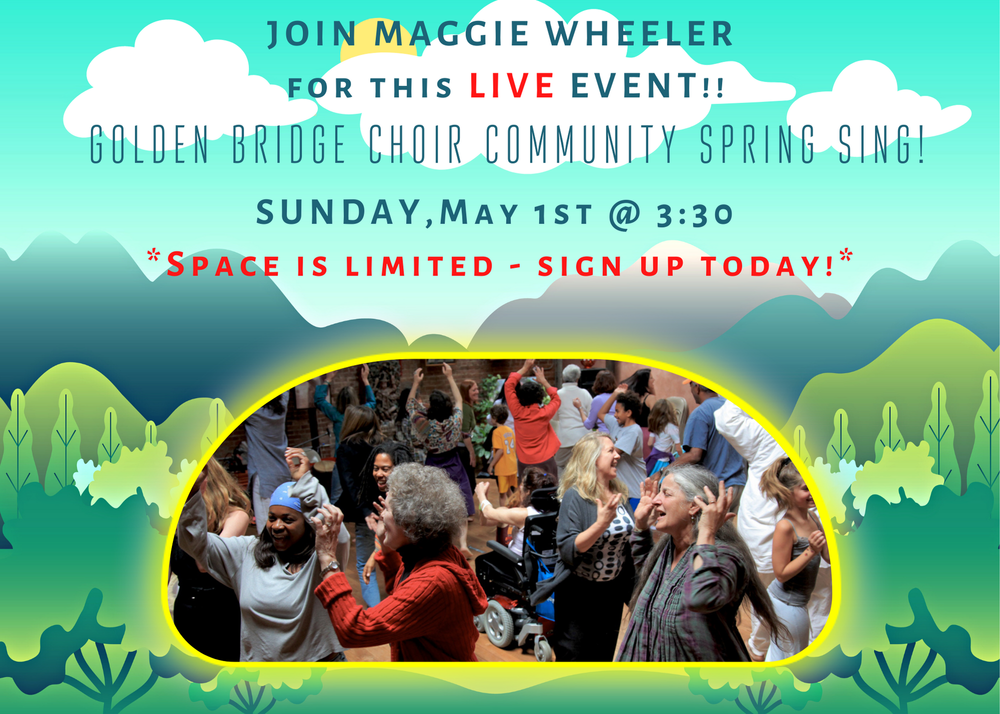 ARE YOU INTERESTED IN JOINING OUR VIRTUAL CHOIR SESSION?
 SEE BELOW :
Staying connected , learning and singing together, finding moments to laugh, cry and dance  can be a comforting and important practice for us all. I am offering a 6 week session on the 3rd & 4th Sundays of the month beginning on FEB. 20th. The cost of the session is $90 dollars.
**If you are experiencing extreme financial hardship and would like to join -  Please reach out info@maggiewheeler.net
THIS CHOIR SESSION BEGAN ON FEB 20TH.
IF YOU ARE INTERESTED IN JOINING -  Please email me at  info@maggiewheeler.net